Zimbabwe Cross Country
This self-drive safari gives you the opportunity to experience all the facets of Zimbabwe from camping on the banks of the Zambezi River to fine dining in Harare and luxury accommodation at Troutbeck Inn in the Eastern Highlands. The itinerary includes the Matopos and Hwange National Parks, ferry crossing over the length of Lake Kariba, Mana Pools, Harare, Nyanga National Park and the Great Zimbabwe Ruins
Time of Year:
Date on request
Day 1
Francistown
Drive from Pretoria to Francistown where we will overnight in the campsite at Woodlands. There are also chalets for those of you who wants to go for that option, excluded.
Day 2
Matopos
Enter Zimbabwe at the Plumtree Borderpost and drive to the Matobo National Park just outside of Bulawayo. There can't be fewer and finer examples of the beauty and mystery of the natural world than in Zimbabwe's Matobo Hills. Add to this the intrigue of man's existence among the balancing rocks and bald hills, and you will see why the Matobo should be on every visitor's itinerary. We will camp there for one night.
Day 3-5
Hwange
Break down camp and leave for Hwange National Park, where we will stay in chalets. The largest National Park in Zimbabwe (formerly called Wankie, and the size of Northern Ireland) was once one of the most popular parks in Africa, drawing thousands of tourists to see its large herds of elephant, buffalo and other plains game.
Roads are in a bad state and campsites are run down (some more than others). But for adventurous self-sufficient 4X4ers, Hwange is heaven.
The Park's animals are supported artificially by several boreholes that pump water from the massive amount of ground water beneath the sand. Without this water the big herds of elephant and buffalo would probably migrate away from Hwange during the dry season. However, fortunate for wildlife enthusiasts, organisations like Friends of Hwange have kept the boreholes running through some of the worst economic times. It makes for some of the best wildlife viewing in Southern Africa, and most of the time, you will be the only visitors for miles around.
Day 6
Kariba Ferries – M'libizi to Kariba

This will be an early morning. We have to be at M'libizi at 8h00.
Save time, fuel, money, frayed nerves, over 1250Kms of driving and at least one night's hotel stop by taking your car the length of the lake using the Kariba Car Ferry service. You and your family can relax in the spacious panoramic windowed saloon, laze in the open deck or enjoy the upper shaded deck whilst someone else does the driving.
The Voyage takes approximately 22 hours in each direction, during which time you will be served with three nourishing meals together with the morning and afternoon tea or coffee which is included in the tariff. There is a fully stocked cash bar aboard.
The vessels depart on their voyages promptly at 9:00am. Intending passengers are advised to be at the departure /loading point not less than 1 hour prior to sailing. For security reasons, once the vehicles are loaded, access to the vehicles is restricted. So do not forget to pack an overnight bag of your requirements. We suggest bringing your towel, cameras, binoculars etc.
Day 7-9
Mana Pools
ETA at Kariba is round about 7h00. We unload the vehicles and from Kariba we drive via Makuti and Marongora to Nyakisikana Gate where we will enter the Park.We will spend three nights in Mana Pools and will use our days exploring the area. The place pumps with wildlife in the dry winter months as the animals come in search for food and water. The word Mana means "four" in Shona and refers to the number of permanent pools in the Park. We will also try to schedule a guided canoe trip on the Zambezi at Mana Pools with Chipembere Safaris.
Day 10
Harare
After taking down camp we head for Harare. The road will take us via Karoi and Chinhoyi. We will overnight in a lovely caravan park, 34 km south west of Harare called Kamba Caravan Park. This is a new destination for Explore Africa, and according to information obtained from the website, it has very well maintained ablution and laundry facilities with beautiful sunsets over Lake Chivero. The Chivero National Park also has a few resident rhino which are always a pleasure to see.
Day 11-12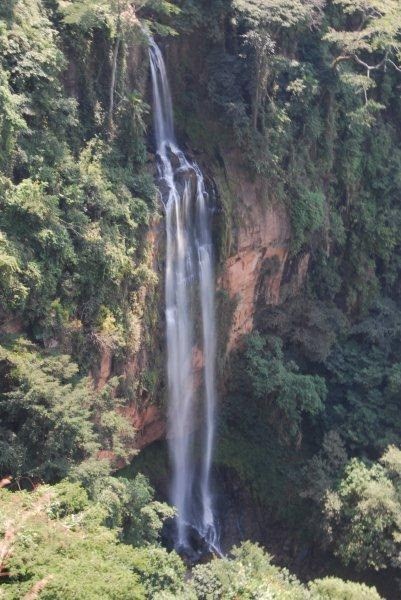 Eastern Highlands – Nyanga National Park
We leave via Harare and head for Rusape where we will turn away to Nyanga National Park in the Eastern Highlands of Zimbabwe. Rolling green hills and perennial rivers transverse the 47 000 hectare Park. Altitudes between 1 800 and 2 593 meters provide cool weather and fresh mountain air, perfect for rest and relaxation. With its stunning mountainous views, numerous waterfalls, varied activities and unique flora and fauna, Nyanga National Park will provide the visitor with an unforgettable holiday experience.
We will stay over in the chalets at Troutbeck Inn, an old colonial lodge and hotel. Try your hand at some trout fishing, play some golf or just sit back and relax. We will visit some of the attraction in the vicinity such as the Pungwe- and Mtarazi waterfalls, Honde view and Worlds end. It is winter time and because of the altitude one can expect very low temperatures, mist and even some rain.
Day 13
Great Zimbabwe
Today we will travel in a southerly direction via Mutare and Birchenough Bridge to Masvingo (previously known as Fort Victoria). We will visit the Zimbabwe Ruins (also known as Great Zimbabwe) before pitching camp in the campsite at Norma Jean, overlooking Lake Kyle, now called Lake Mutirikwi.Formed of regular, rectangular granite stones, carefully placed one upon the other, they are the ruins of an amazing complex. The structures were built by indigenous African people between AD 1250 and AD 1450 believed to be the ancestors of modern Zimbabweans.
The ruins at Great Zimbabwe are remarkable; lofty, majestic, awe-inspiring, timeless. The quality of the building in places is outstanding. It was built by craftsmen who took a pride in their work. There is nothing to compare with it in southern Africa.
Day 14
Mussina
We will leave for the Beitbridge border post where we will enter South Africa. This is also the end of our safari and from here participants can go back home or extend their trip to a visit to Tshipise, the Kruger National Park or one of the many resorts in Limpopo Province.
COST
The cost will be R 15 100 per person, but is subject to change if any of the service providers increase their prices.
Included:
Guide fee
Park entry fees
All camping fees
All vehicle entry fees
Kariba ferry & Dinner
Lodge accommodation at Troutbeck Inn
Excluded:
Road tax
Third Party Insurance
Carbon Tax
Camping Equipment
Fuel
Food and Beverage
All additional optionals and activities
Deposit
A non-refundable deposit of 50% per person is required in order to confirm a booking. The balance is due a minimum of 30 days prior to departure.