One of the last remaining untamed wilderness areas in Southern Africa, Kaokoland in the north-western corner of Namibia boasts an unspoilt harsh magnificence. This rough country is now communal land and belongs to its original inhabitants the Himba. These enduring people follow the same way of life as they have done for centuries living amongst the jagged mountains, boulder-strewn slopes, deep river valleys and semi-desert plains. Kaokoland is also home to an amazing array of animals including the legendary desert elephant, lion, oryx, kudu, springbok, black rhino, ostrich, giraffe and mountain zebra. Although unforgiving, the rugged landscape is especially attractive during the early morning and late afternoon when it is transformed into softly glowing pastel colours.
During the safariwe will visit all the famous Kaokoland landmarks as well as a few remote and less frequented "secret" places.
Time of year:
Dates on request
The adventure starts in Kamanjab where you will meet your guides and fellow travellers.
Day 1: Khowareb Schlucht
The expedition officially starts after breakfast. Following a gravel road we head for Kamanjab where there will be an opportunity to refuel and to buy last minute supplies. From Kamanjab the road continues in a north-westerly direction until it reaches the south western border of the Etosha National Park. Here we will turn off onto a dirt track taking us through a veterinary gate, through Baadjie (a rather large kraal) and into the Khowareb Schlucht itself. The past Schlucht is a narrow gorge measuring 21 kilometers in length and because of permanent fountains we can expect to see a variety of game in the area. Our first night will be spent at a very neat community camp on the banks of the river.
Day 2 - 3: Puros
From here we will continue into the heart of the Kaokoveld, following tracks in and between the typical Kaokoland rivers. We are entering the domain of the desert elephant. We are on the lookout for these elephants that have adapted over time to survive in these harsh conditions. These desert elephants are one of a group of only two desert dwelling elephants found in the world … the other in Mali. Driving down the Hoanib River and then crossing over to the Hoariseb River, there will be a good chance of spotting the desert elephants. You will notice the body mass of these elephants are lesser while their feet are bigger than the rest of their species that live in better conditions elsewhere in Africa.
Day 4 – 6: Van Zyl's Pass/ Marienfluss/Hartmans valley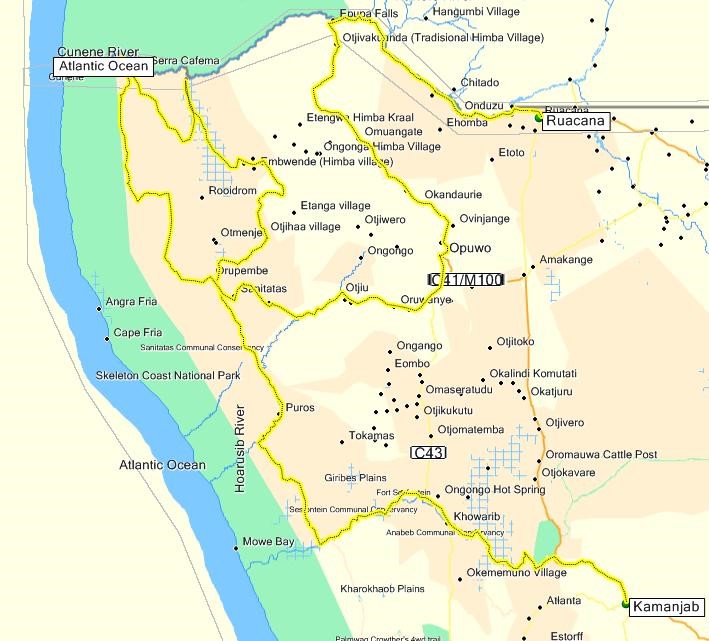 From Puros we drive through spectacular mountain scenery before reaching the Khumib Riverbed, (south of Orupembe), on our way to the start of the famous Van Zyl's Pass. The pass was named after Ben van Zyl, the "Bantu" Commissioner of the Kaokoveld in 1960. He and his right-hand man, Jeremiah, together with a team of Himba's built various routes in the Kaokoland.
The sight across the Marienfluss from the summit of Van Zyl's Pass is awesome. Van Zyl's Pass (Otjihipa mountains) ends in the Marienfluss. This beautiful grass plain is a wonderful sight. The decent through van Zyl's Pass is slow, enough time to take photographs of the breath taking views along the way. Near the bottom of the pass is a viewpoint providing a stunning view of the Marienfluss below. From Marienfluss – cross the Hartmans mountains and into Hartmans valley. Here we will negotiate the Namib's northern dune field. This massive dune field, although not as big as the Namib Sand Sea south of the Kuiseb River, has a distinct character all of its own.
Day 7 - 8: Hoariseb valley
Marienfluss we head south west via 'Rooidrom' and the Hoariseb Valley on the way to Opuwo the "capital" of Kaokoland, Here we can stock up on much needed supplies. The town has ATM facilities, fuel and a supermarket.
Day 9 – 10: Epupa
Arrive late afternoon at Epupa … a wonderful sight awaits you. Here the waters of the Cunene plunge to 60 meters below the main stream with the river splitting up to hundreds of small waterfalls … a sight you will never forget.
Day 11-12: Making way for Ruacana along the banks of the Cunene
Driving east further along the Cunene through tree arches formed by the branches of huge trees. We will cross various 'mountains' were it runs into the Cunene river valley. Although progress is slow due to bad road conditions, The last night we camp at Kunene River Lodge. You are welcome to make your own arrangements with the lodge should you prefer to upgrade to a bungalow. The trips will ends in Ruacana where fuel is once again available.
TRIP ESSENTIALS
Mandatory vehicle requirements:
Your own 4x4 vehicle!

Spade

60 x litres of water

Tyre pressure gauge

Large heavy duty rubbish bags

Plastic bags to carry rubbish, e.g. empty cool drink tins, etc.

Brake fluid

Gear oil

Engine oil

Fuses

Spare V- belt set

Sufficient Petrol/Diesel to cover a distance of 900km

NB!! Your vehicle must be fitted with points to attach tow ropes both in front and the rear

All equipment and luggage must be strapped in and securely fastened.

Vehicle must be loaded in such a way to ensure that the vehicle is not "Top Heavy" – e.g. only light items, camping gear on roof carriers

2 Large bags of firewood per vehicle

The trail passes through heavy dune area, which requires high flotation tyres ("fat takkies").
Supplied by URI Adventures:
Communication radios for all participating vehicles
1 meals per day (Only tea/coffee supplied with meals)
"Communal" camping equipment (e.g. braai grid, cooking facilities & equipment, tables, wash-up facilities, shower, toilet, etc.)
What to pack:
Tent, folding chair & sleepwear (bedroll, tent etc.)

Eating utensils and crockery, i.e. your own cutlery, plate, bowl, glass & mug

Own snacks & refreshments, i.e. any alcoholic beverages, cool drinks, etc.

Torch & batteries

Camera (extra films/memory cards & battery)

Sunglasses & sun screen

Clothing (for both very hot and very cold weather)

Toiletries

Towels

Prescription medicine
Travel insurance and medical evacuation:
In case of a motor vehicle accident and or any medical related evacuation you must ensure you have your own emergency evacuation cover. Please supply us with these details so that we know who to contact in case of an emergency.
Emergency Contact number:
Should anyone need to contact you while you are on the trip, please note that we will be out cell phone reception range or normal telephone service. In the event of an emergency you may be contacted via the Uri Adventures office at: +264 64 220571 where the caller can obtain the Satphone number allocated to your trip. The office will also be able to send messages to the guides.
PRICES (2016):
Days/Nights

Adults

0 – 5 YEARS

6 - 11 YEARS

12 – 17 YEARS

11/12

Adults= R 11 500 p/p

(14 minimum)

-

R 2700 p/child

R 3800 p/child
Included in the trip cost:
Dinner (Only tea/coffee supplied with meals)

Experienced guides in own vehicles

Two-way radios for participating vehicles

Camping fees

Concession fees
Excluded from the trip cost:
4x4 Vehicle

Fuel

Camping gear

Travel insurance

Vehicle insurance

Drinks and things of a personal nature
Note: We can assist you with 4x4 and camping equipment rental.
Note: This route is NOT suitable for trailers.